Lake Nakuru National Park
Lake Nakuru National Park was established in 1961.
It is renowned as a bird sanctuary with over 400 bird species, including huge flocks of flamingoes and many other water birds. It is an excellent park for wildlife spotting and is home to many water-loving animals such as hippos and waterbucks.
Lake Nakuru is a large, shallow lake surrounded by marshes, woodland and grassland. The park has very good roads and some excellent viewpoints overlooking the lake from Baboon Cliff and Lion Hill.
The Park also offers sanctuary to huge numbers of native African animals including waterbucks, warthogs, impalas, buffalo, Rothschild giraffes, elands, endangered black rhinos, white rhinos and, occasionally, leopards. A large herd of hippos have a territory in the northern part of the lake, making for interesting game viewing.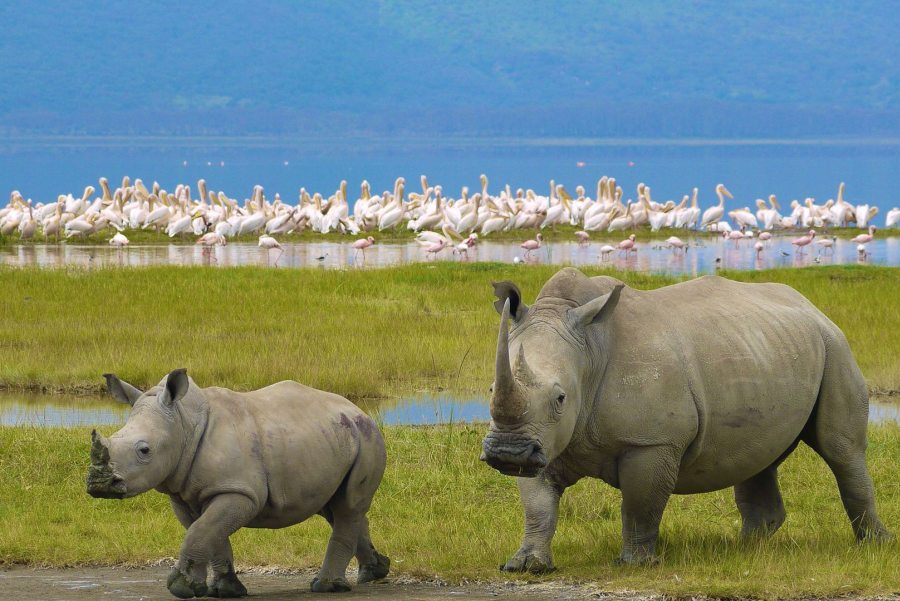 Bird watching: Enjoy the fabulous water birds and other bird species. The best place to view the birds is from Baboon Cliff, where you get an excellent view over the lake, and the wonderful spectacle of pink flamingoes along its edge. However, the number of birds in the park fluctuates as food conditions change, so check the bird population with the national park before making the journey.
Game viewing: See the endangered white rhinos and other animals including waterbucks, warthogs, hippos, impalas, buffalo, Rothschild giraffes and more.
Drive through the unique vegetation and the biggest euphorbia forest in Africa.
Viewpoints include Lion Hill, Baboon Cliff and Out of Africa.
Visit the beautiful waterfall at Makalia.